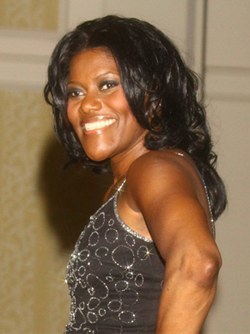 Vanessa Riley Harris
Vanessa Riley Harris is a native of Dothan, AL. She is a graduate of Dothan High School and a graduate of Wendy Ward Charm School, where she discovered a passion and acumen for modeling and the fine art of etiquette. Vanessa earned her Bachelor of Arts Degree in Human Resource Management from Saint Leo University in St. Leo, Florida. She also earned Associates of Science Degrees in Information Management and Education & Training from the Community College of the Air Force. Although Vanessa vigorously pursued an education, she still found time to dedicate time to her passion and produced and modeled in numerous fashion shows across the United States. Her experience led to her selection as host of the the auditions for the Air Force finest, "Tops in Blue", an elite showcase of Air Force professional entertainers that travel the globe. In addition, she has starred in Air Force movies that displayed the dangers associated with drug use.
While serving in the military, Vanessa immediately became aware that her skills in etiquette were a must at high-level events and political gatherings. She regularly interacted with top-tier state, local and federal decision makers with confidence – knowing that her twenty years of etiquette training gave her the tools and knowledge needed to carry herself with style, elegance and grace. In addition, she provided professional leadership, technical expertise and assisted with coordination and planning as it related to development of comprehensive Drug Demand Reduction programs and initiatives.
Vanessa retired from the United States Air Force in September of 2010. She spends her time teaching etiquette to children, teens and adults through her company, Ladi Vee's Etiquette and Consulting (LVEC). When Vanessa is not out providing etiquette training sessions, she's producing and coordinating her fashion shows throughout the United States. Vanessa always strives to make a difference in the lives of others by helping them to understand the importance of treating others with respect and knowing the right behaviors necessary to handle all situations with style and grace.
Vanessa is married to Chief Larry D. Harris, retired, US Air Force. Vanessa has three daughters, Alecia, Alexias and Alonah and grand-daughters, Simora and Sanaiya.